IMAGE VIDEO
Please get here a first impression of the P+F production facility and manufacturing of devices for the treatment of cardiac structural diseases in São José do Rio Preto, Brazil.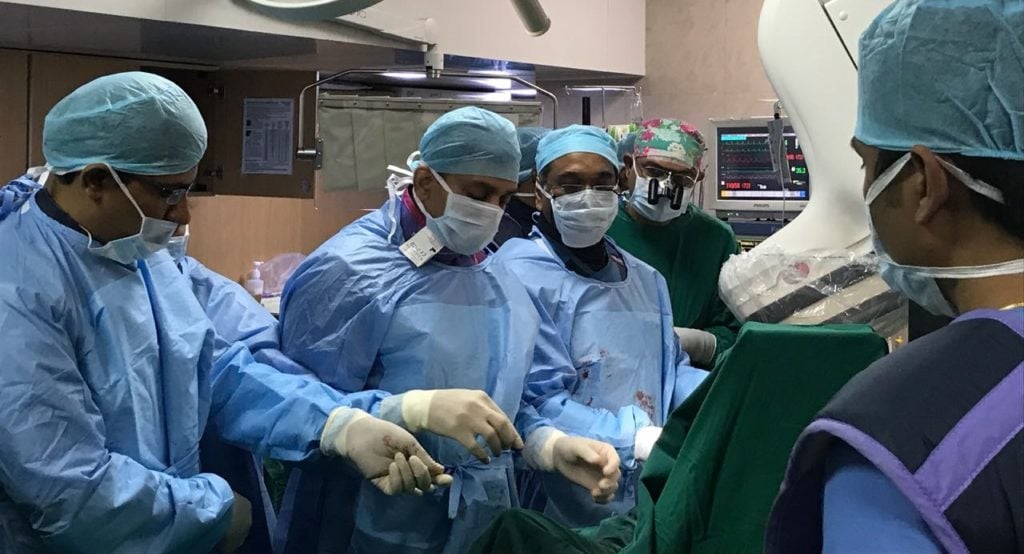 SUCCESSFUL VIENNA AORTIC SELF-EXPANDABLE VALVE IMPLANTATION
The first-in-man implantation of VIENNA AORTIC SELF-EXPANDABLE VALVE was successfully made today with excellent result. Read more soon.
LATEST PUBLICATION
In February 2018, a new article by Professor Lauten et al was published: Interventional Treatment of Severe Tricuspid Regurgitation. Early Clinical Experience in a Multicenter, Observational, First-in-Man Study.
Transcatheter caval valve implantation is under evaluation as a treatment option for inoperable patients with severe tricuspid regurgitation (TR). The procedure involves the catheter-based implantation of bioprosthetic valves in the inferior vena cava and superior vena cava to treat symptoms associated with TR. This study is the first to evaluate the feasibility, safety, and efficacy of this interventional concept. Read more...
SUCCESSFUL TRICVALVE® IMPLANTATION
Woman skips open-heart surgery through minimally-invasive procedure to treat tricuspid regurgitation
Sharjah: A team of cardiologists at Al Qasimi Hospital successfully replaced two valves in the heart of a 72- year-old woman suffering from tricuspid regurgitation, without resorting to open-heart surgery.
The new procedure was performed in cooperation with medical teams from Germany and Austria.
Tricuspid regurgitation is a disorder in which the heart's tricuspid valve does not close properly, causing blood to flow backward (leak) into the right upper heart chamber (atrium) when the right lower heart chamb1 (ventricle) contracts.The Syrian patient had undergone two open-heart surgeries in a decade and doctors did not want to risk a third one. Read more...